I am so bummed that I didn't snap a really good before picture. Just imagine cabinets from the 80's with a missing cabinet door, a frameless mirror that sat propped up on the vanity leaning against the wall with a lovely hazardous jagged edge and walls that needed patching (oh, but kinda hidden from random wall art I strategically placed). So there--got a good vision yet?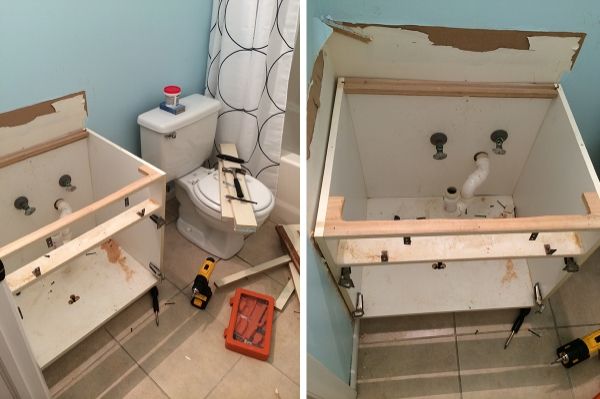 The previous wall color was one of my favorites to date. It was just a leftover gallon of paint that my parents gave me and I can't seem to figure out what color it was. All I know is that it's a Benjamin Moore color. Not very helpful! Choosing to go with a navy color was a bold move, but I am so glad we went for it. Dark colors in small spaces seem to be a good match. The white accents and shower curtain help break it up a bit.
We hired a contractor for moving the pipes, patching the nasty holes and laying the ceramic tiles. The ceramic tiles had to be cut and we only had 3 leftover tiles to work with so we didn't want to risk making a mistake.
When we originally decided to renovate the bathroom, we immediately were hooked on this one particular vanity, but quickly learned that it would not work for our space with the way the pipes were positioned. Trying to keep costs to a minimum we opted for a pedastel sink which was much more affordable. We still had to move the pipes, but with the lower cost of the pedastel sink it still came out cheaper than vanity + pipes.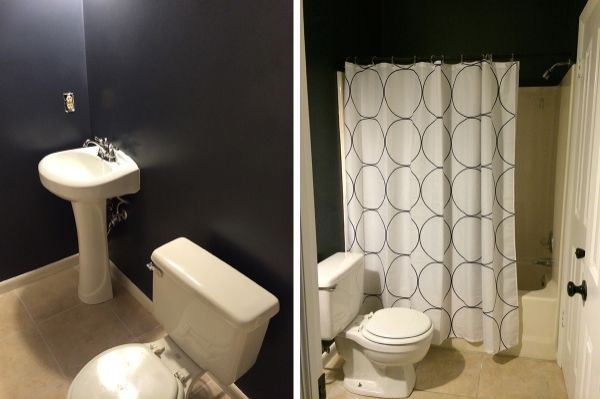 After everything was in place and the walls were painted, I had to figure out where to hang shelves and hooks. I let the bathroom be for a few days to kinda think through where I wanted to place everything. It's so nerve-wrecking to drill holes in freshly painted walls!
Everything was complete before my brother and his girlfriend came to visit. So glad to have it all wrapped up! I'll share the guest bedroom makeover next.
Happy Friday, friends!